In the morning of 12 November, before the final day of the Vietnam Talent 2019, VAIS had a presentation about the product "Automatic Transcription Solutions" with the Board of Judges.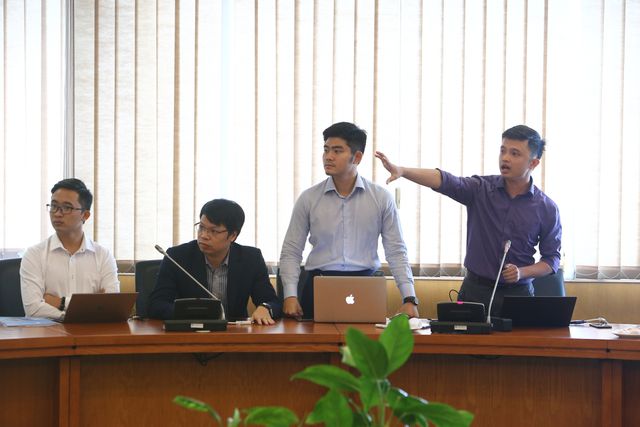 PhD. Do Quoc Truong (Co – founder and Cheif Technology Officer) demonstrated about the product
"Contest products "The Automatic Transcription Solutions (hereinafter referred to as "Origin-STT") continues to receive attention from the Prospective Examination Council.
The authors demonstrated the ability to "convert voice" directly from audio to text in an almost absolute way, closely following the real time of the speaker. The representative of the author group, the leader of the group, Mr. Do Quoc Truong, said that the product successfully applied and developed the core technologies of the artificial intelligence system for the Vietnamese language. Origin can recognize voices in all 3 regions: North, Central and South. The ability to identify about 7,000 Vietnamese words, and it identify them well at a distance with an accuracy of 95-98% for the Northern accent.
Currently, the software is also being used in meetings at the Office of the Party Central Committee, the Office of the Provincial Party Committee, the City Party Committee and supporting 50 newspapers and 300 reporters across the country. "
https://dantri.com.vn/suc-manh-so/cham-chung-khao-nhan-tai-dat-viet-2019-linh-vuc-cntt-tim-kiem-nhan-to-toa-sang-20191112010513428.htm?fbclid=IwAR2FW1x0rEFNG5FA4azv2Y-ofTsiJWEQa1Ja6YP4INT2D-0adOEvEiZcpNo